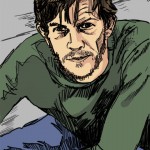 I turned 30 last month. With three kids, the oldest turning 4 in October, 30 years didn't feel like much of a landmark. But I did get money from generous family members, and I bought some fun items this year.
One of those was a Wacom "Bamboo" drawing tablet. This is the  amateur user version of Wacom's Intuos line. It has fewer pressure sensitivity levels and doesn't detect the tilt of your pen like the more expensive tablets, but it's a great little tool to play with. Besides, I generally draw in pen & ink and color on the computer, and for that it's perfect.
It installed without a hitch on my macbook pro. I did have a little trouble in photoshop after the initial install. There was a long delay between my mark on the tablet and the mark appearing on the image. Then it would cut out entirely after a couple marks, and I'd  have to switch to another application and then back to PS. I restarted my mac and haven't had a problem since.
The image here was drawn entirely with the tablet, directly over a photo of my friend, Evan.