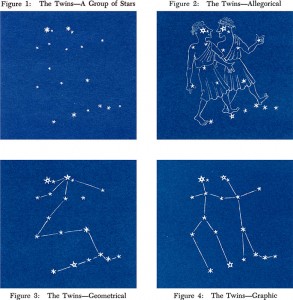 You owe H.A. Rey. If you passed an astronomy test on constellations any time since 1960, chances are you passed because this author/illustrator (best known for the original Curious George books) wrote The Stars, A New Way to See Them.
I heard of the book listening to Science Friday. I grew up on Curious George and love when art meets science, so I did a quick search in our local library system. Royal Oak and Ferndale didn't have it, but thanks to inter-library loan I got my hands on it late last week.
When I first looked at his redrawing of each constellation (Figure 4) I thought, "Oh, this is how I learned the constellations. He must have popularized this."
But I was wrong. He made it up.
It's a great intro to stargazing; mostly practical, non-technical guides to recognizing the constellations. The end of the book has some technical details regarding astronomy but leaves out most of the math. He's quoted in the book jacket, "What surprises me is that nobody has done it before." Indeed.
My home has two AC window units, one upstairs and one in the living room. This normally works out perfectly considering mine and my wife's opposite body temperatures. I keep my office door closed and windows open. This keeps our electric bill down and keeps me from freezing all day.
I don't often get too hot. I'd even use the term "rarely", but when MichiganRadio.org says today's 91º "feels like 99º", I know what they mean. So I'm toughing it out this week, considering the AC would never reach into my office anyway. And I'm utilizing an advantage of working from home: working in your underwear. TMI? Too bad.