I've been participating in Moustache May again this year. For the uninitiated it may be hard to understand why such a number of men would want to sport moustaches for a month, post photos of themselves online, and obsessively check and comment on each others photos. All I can say is don't knock it 'till you've tried it.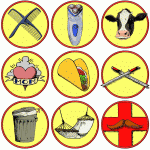 I see Moustache May and (from the same creators/organizers) Whiskerino as a space for daily creative outlet, and this year I started making merit badges to go with my photos, as if MM were some kind of scout troop. You can see some of my favorites at left and my full MM profile with pics here.
I didn't keep it up the whole month – just not enough time in the day. But it was a great exercise to be drawing daily. I wish Sketchcrawl weren't 45 days away – I'd love to dive in already warmed up.