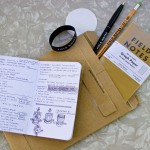 My friend Josh introduced me to Field Notes when I needed a replacement for my Franklin-Covey planner. Almost all my scheduling and task management are on my laptop or online now, so I just needed a nice, pocket-sized notebook for taking notes and jotting down tasks or sketches.
Enter Field Notes. They're the perfect size, and the interior is graph paper (which I love). The key to their success, however, is being tailor made for the consumate design geek. The back inside cover gives detailed production specs in witty, feel-good one liners. The cover is described like this:
Cover: French Dur-O-Tone 80#C "Packing Brown Wrap," with a thick, brute force, 1-Color application of "Dachshund Nose" black ink.
and the binding like this:
Binding by a Mueller saddle stitcher, with quiet appreciation to Samuel Slocum, George W. McGill and William J. Brown – the "Founding Fathers of the Staple."
If that doesn't give you a warm feeling inside, you're not a design geek. If it does, I'll bet you're two seconds away from Googling "Field Notes" and buying a set. I'll save you the trouble: